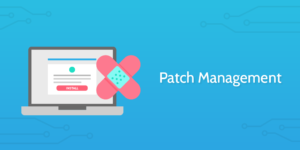 A patch is a quick workaround for a program component's flaw. It serves as a fast fix for a software version in use at your business. Software companies actively try to fix flaws in their products and then provide them with either a new upgrade or a patch as soon as possible.
Patch management is the practice of tracking updates and ensuring that our devices are secured and upgraded with the latest patches in the most reliable manner possible while avoiding any issues.
There are three different kinds of security fixes available.
Feature updates – They improve device stability and add-on functionality.
Bugfix fixes – they correct flaws in applications, allowing them to run smoothly and preventing crashes.
Security updates – security patch management fixes identified program vulnerabilities and plugs holes in the infrastructure, stopping malicious attackers from leveraging flaws and damaging the business.
What is the aim of patching?
 Security vulnerabilities and system crashes can easily be prevented if all recently released patches are promptly installed. This is where the concept of patch management comes into play, permitting you to manage patches more effectively and, most significantly, safeguard your organization against the cyber menace.
Keeping up with all patches that must be installed can become a dreary task for your staff to execute independently. Automated Patch Management program allows them to shift their attention away from time-consuming tasks like patch management to less time-consuming and more enjoyable events.
You do not thoroughly comprehend the patch management process if you've never had to deal with a security incident. However, you must note that ignoring the risks is not an option, as non-existent or slow patching will put both small companies and corporations at risk.
Automated patching has the following advantages:  
# 1 Productivity boost
Have you ever had to deal with downtime because of machine glitches and crashes? Have you ever seen your computer infected with malware?
Not, but it doesn't suggest the company isn't at risk – in other terms, don't fall victim to the optimism bias in cybersecurity that too many citizens feel.
Not only can you avoid the possibility of ransomware and network failures with an integrated patch management plan in place, but you can also gain complete visibility into the IT system and actively monitor bugs and fixes – and the entire process will be completely automated.
This ensures you can schedule when you expect the changes to be installed and reap the benefits of quiet software and patch installation without causing any user disruption.
#2. Complete conformity
Failure to comply with the most recent protection standard may result in legal repercussions for your business. To become compliant with current regulations, you must demonstrate that you have completed the necessary measures.
Auditors, for example, will like to know how and where patches were implemented, so the company must have a structure in place that helps you to completely record the procedure.
An integrated patch management software like ConnectWise Automate ensures that you remain compliant and have access to a complete CVE/CVSS audit trail.
#3. Enhanced safety
Finally, you can be assured that your business is safe from a cybersecurity standpoint.
It is impossible to create software that would not need to be revised or improved in the future. For this reason, as part of every organization's program maintenance and stationing operations, a regular of downloading updates and fixing any ongoing problems must be identified.
As a result, the most important and obvious advantage of enterprise patch management is improved IT stability.
The risk of your company being affected is reduced when patches are deployed at the right time. By protecting your infrastructure until cyber criminals exploit their flaws, you will prevent breaches and eliminate the security problems and reputational damage that often follow cyber-attacks.
How Can Automated Patch Management Software Help You Save Time?
Maintaining current operating systems and applications will significantly minimize the customers' cybersecurity risk while also improving endpoint device efficiency. Clearly, the number of workstations and servers you manage for them increases the risk and performance problems.
ConnectWise Automate software simplifies and speeds up the process of patching outdated systems, giving you granular control over the patch management process and peace of mind.
ConnectWise Automate Patch Management.
#Reliable Dashboard to know the score
With ConnectWise Automate, you can view all your customers' patch scores using one dashboard. It helps you identify where your team needs to focus on making your clients' systems secure. What systems need the most attention of your support team.
 #Automatic regular updates.
Automatic regular updates keep your consumers' Windows systems up to date. If you offer 3rd party application updates to your managed customers, then having 3rd party app license from ConnectWise Automate saves you some bucks plus keeps your customers' LOB application up to date using a single pane.
#Convenient setup
Immediately and regularly patch all enterprise efficiency solutions, including Microsoft, Adobe, Java, and standard web browsers, with ConnectWise Automate simple setup and configuration. You can make different patch policies and reboot policies according to your offered service level agreements.
New to ConnectWise Automate and needs assistance to set up with patch manager with industries' best practices. Reach us today. If you want to perform reboots on desired schedules, we have a plugin for you – Reboot Schedule. More than 100 Managed service providers are already using it.
#Prove your worth
ConnectWise Automate gives you all the data in professional-looking reports that you need to show your customers. You can schedule reports on a weekly, monthly basis to send directly to your customers. It's just software with prebuilt reports that you may use. However, every MSP shop doesn't sell the same level of services.
If you're one of them who believes in selling something valuable and unique and want to brand, customize your reports. We are one email away. You'll win their confidence, as well as a better chance of adding service revenue to current and new contracts.
#Billing by a PSA
ConnectWise Automate will help you save time and money by integrating with your PSA billing process. With little effort, the bill for all third-party patch management patches through the entire user base.
 What is Window Patching, and how do we go about doing it?
The method of handling updates for Microsoft Windows is known as Windows patch management. Patches are small pieces of code added (or patched) into the original code of a computer. It's primarily used as a stopgap measure before a new complete version of the program is out.
Microsoft Windows and many other Microsoft applications are updated using Windows Update. Feature enhancements and security improvements are often included in updates that protect Windows from malware and malicious attacks.
You can also use Windows Update to see the update log, which displays all the changes that have been introduced through the Windows Update program.
When automation doesn't fit, we (Sankalp IT) care manually.
ConnectWise Automate can download and install Windows updates on computers. But it is not guaranteed your machines are being updated. Sometimes it gets incorrect information from targeted machines and shows it on ConnectWise Automate Patch manager, and you mostly believe it is correct.
ConnectWise Automate is an exceptionally reliable RMM (Remote Monitoring and Management) tool. But some things are beyond its functioning. The Windows update agent must be on the current version to get the latest updates from Microsoft and show accurate information on the screen, and some other factors are involved in troubleshooting and making sure systems are up to date.
However, this is insufficient. We have seen the complete patching of Windows systems requires manual intervention, especially on servers and critical workstations. As a Consulting company, we advise performing periodical manual check-ups to ensure all managed systems are up to date.
There is a slew of other problems with Windows patches that need to be resolved manually after hours. If you are a partner, you can count on us that all your systems are up to date while you relax and enjoy your evenings and weekends.
You will not have to think about repair and reboot management if you use our Patch Management program. We'll take care of things the same way your help staff does with an affordable monthly fee.
For more information, visit  https://sankalpit.com/patch-management/