Steps for Microsoft Teams Integration with Connectwise Automate
Let me introduce you withSendto MSTeams – or Microsoft Teams integration with Connectwise Automate is a plugin for CW Automate to send alerts directly to the channel of Microsoft Teams. If you are not aware that Microsoft Teams (MS Teams) is a Microsoft Group chat application and it is part of Office 365 subscription.
---
Where can I find this plugin?
We have developed this plugin for you. You can download directly it from below button.
If you have any problem in downloading, please contact us.
---
Can I get its branded version by my company name?
Yes, you can get it. Therefore, you only need to email us the information and need to invest $100 (onetime fee) using https://www.paypal.me/SankalpIT.
---
Requirements?
License key – You may also request for 15 days trial version.
CW Automate 12 or higher versions.
Note: This plugin is only tested on CW Automate 12. If you want to get trial key or use for CW Automate 11 or ConnectWise Automate 10.5, please email on contact us
---
How to Install Sendto MSTeams plugin?
The procedure is very simple. You will need to download the dll file and then import it in the system.
Download and Unblock the DLL file.
Right, click on Sendto MSTeams.dll file and select properties.
Then, click on Unblock button/checkbox and click OK.
Install the plugin.
Open Connectwise Automate.
Click Systems -> Solutions -> Plugin Manager.
In Plugin Manager window, Click Advance->Manage Plugins->Add Plugin.
Enable Plugin.
Click on All Installed Plugins in the left pane.
Select Sendto MSTeams and Enable it.
Wait for DB service to restart or you can close the plugin manager and restart the CW Automate Critical services by yourself.
Reload your control centre. What has changed in CW Automate?
Open Dashboard ->Config->Integrations->Sendto MSTeams tab. It means you have Sendto MSTeams plugin in your Connectwise Automate.
Or edit any Alert Templates-> Click on Add New Alert button. Add New Alert Action window will appear if you scroll down there will find alert action named Sendto MSTeam at the bottom.
---
How to use in Production?
First of all, plugin should be activated by navigating to System-> Configuration ->Dashboard -> config -> Integration -> Sendto MS Teams.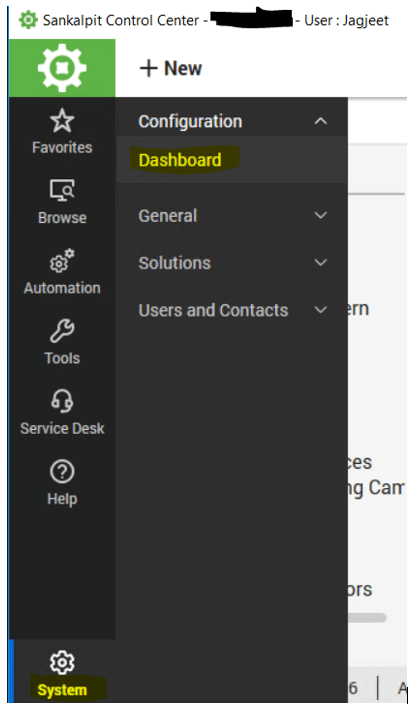 Enter your License Key.
Click Validate License. It will show as "active" after activation. And, you are ready to go.
---
Provide your Incoming Webhooks URL in Dashboard.
If you don't know what is it or how to get it, then read this article.
) Navigate to System-> Configuration ->Dashboard -> config -> Integration -> Sendto MSTeams.
) Enter your Incoming webhooks URL where it labeled as Incoming Webhooks:
NOTE: WHEREVER I USE "YOUR" MEAN TO "YOU AS AN MSP". AS AN MSP, IT SHOULD BE YOUR CHANNEL'S URL. IF YOU DON'T KNOW HOW TO GET IT. Please study this document.
Create Default Contact that will used by Default Alert Template soon.
Create the new contact.
Name it Default Sendto MSTeams.
After giving name Click on Sendto MSTeams tab on the contact screen.
Click on Use Default URL radio button – To use incoming webhooks that are given on Dashboard -> Config -> Integration -> Sendto MSTeams tab and its section Incoming Webhooks.
Click the Save button.
Then click Test Link to test your Incoming webhooks. You may close the contact screen once you get the test message in the desired channel of MS Teams application.
Still Confused, click on Help Link.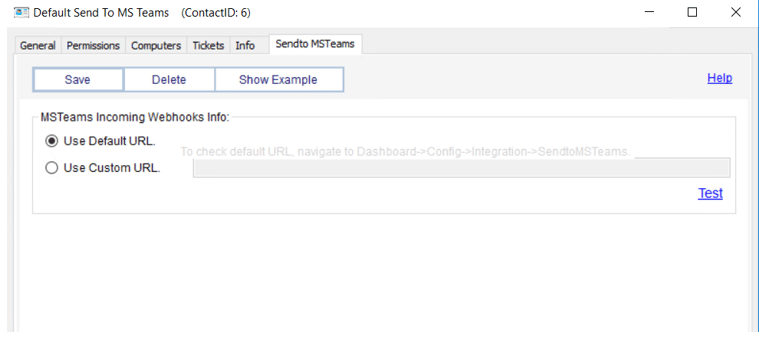 NOTE: AN MSP should have one Default global contact mainly for this plugin in his ConnectWise Automate system. For best practices use default global contact ("Default Sendto MSTeams") only to send alerts to MSP's default channel of his MSTeams application.
You can send alerts directly to your customer's MSTeams' channel by providing his incoming webhook URL in "Use Custom URL" field.
Each time, you create any contact for "Sendto MSTeams" plugin, make sure to test it by clicking on "Test" link before using it in production.
Create Default Alert Template, add Alert Action.
Navigate to System-> Configuration ->Dashboard -> Management -> Alert Templates.
Click on Create New Alert Template name it Default Sendto MSTeams.
Click on Add Alerts button to add New Alert Action to Default Sendto MSTeams alert template.
This will a new window called Edit Alert action window. Click on New Alert. Again, a new window comes up called Alert Item Settings window.
In The Alert Actions section, scroll down to find Sendto MSTeams alert action.
Check the checkbox for Error column of Sendto MSTeams alert action.
Select Every day.
Select Contact. That is Default Sendto MSTeams contact. You've recently created it.
Click Save.
Click Close.
And, Close the Dashboard.
Now, you can use this Alert Template with any monitor to send alerts on MSTeams' Channel.
Please do not forget to write what you think about this plugin in the comment section. You are most welcome if you have any feature suggestion. Thank you!